KNOW ABOUT OUR PROJECT
Solapur Bio-Energy Systems Private Limited (SBESPL)
The Solapur waste processing plant is the crowning achievement among all the projects that ORS has worked on in the past decade. Take a look at this case study to see how we came up with our patented DRYAD ™ technology to create an integrated large-scale waste processing plant that has remained functionally operational since 2013.
Introduction
Organic Recycling Systems Limited (ORS) is one of India's premier waste management solutions companies with more than 14 years of operational and business experience in the waste sector. In 2013, ORS set up the first of its kind, large-scale municipal solid waste treatment and processing plant in Solapur, Maharashtra based on our patented DYRAD ™ technology as a demonstration unit. Since its inauguration, the Solapur MSW plant has been operational and is capable of processing up to 400 tons per day (TPD) of waste,wherein the msw is sgergeated into inorganic and orgnaic frcation. The organic fraction is  is then converted into biogas and high-quality fertilizers. The biogas produced can be used as a source to generate electricity or simply as a form of fuel. The non-organic waste such as plastic, metal, etc, can be segregated and used for other purposes such as recycling , co-processing.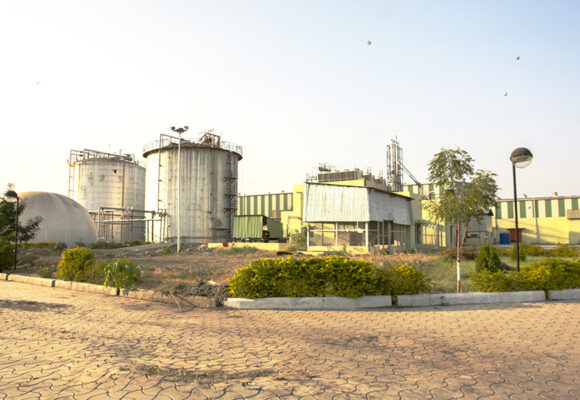 The success behind the large-scale operational capability of the Solapur plant lies in the innovative scientific approach that ORS implemented during the construction of the MSW plant. In our mission to build sustainable and environmentally friendly scientific waste processing solutions, we have created the natively developed and patented DRYAD™ technology. The DRYAD™ Anaerobic Digester Technology is based on the biological process of thermophilic biomethanation, under which waste is converted into biogas quickly and efficiently, leaving fertilizer as a by-product with no pathogens
Achievements
Since its inception in 2013, the Solapur MSW plant has processed millions of tonnes of waste, thereby significantly reducing the negative environmental impact of waste on the city and providing fertilizers and biogas to the local populace. The electricity generated is distributed through MSEDCL to the city and surrounding areas. Let's take a look at the salient accomplishments of the Solapur MSW plant since its inception:
First of its kind large-scale DRYAD™ Anaerobic Digester Plant in India.
Processed more than 8 million tonnes of waste since operations began.
Capability to produce more than 3.60 MW of energy per day.
Capability to produce more than 60-80 tonnes of FCO-certified organic compost per day.
The large-scale capability of processing 400 tonnes of waste per day.
Reduction in greenhouse gases by the processing of organic waste in an environmentally responsible manner.
Plastics and non-organic waste is segregated for recycling.
Generating employment for the local population at the plant and for waste collection operations.
Training and hiring of transgender and women helpers for technical and admisntrave job roles.